Job Information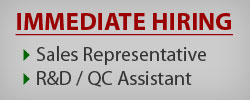 Welcome to our Job Page! Versa Group Philippines considers people as the major asset in its organization. To get the best people around, hiring becomes the key that opens the door to promising workforce that can bring the company to new heights.
The company continues to find qualified candidates to be part of the group. If you are interested in joining the company, consider the following areas of expertise:
---
TECHNICAL SALES REPRESENTATIVE
M/F, not more than 40 years old.
Must possess a Bachelor's Degree preferably Engineering course.
Excellent verbal and written communication skills.
With experience in selling food inspection machines (X-ray, Metal Detector, Checkweigher, Rejector), vacuum packaging machines, mixers pulverizer & inkjet printers.
Willing to travel within and outside Metro Manila.
---
SERVICE TECHNICIAN
Male, 35 years old and below.
Candidate must possess at least a Vocational Diploma / Bachelor's / College Degree, Engineering (Electrical, Industrial, Mechanical).
Preferably 1-4 yrs. experienced employees specializing in Maintenance / repair (facilitites & machinery)
Good in verbal and written communication skills.
Experienced in troubleshooting of refrigeration & airconditioning is a plus.
Willing to conduct field work within and outside Metro Manila.
---
The person will be responsible for the business development by increasing revenues for developing accounts. Identify potential industries and potential customers. He will contribute to the achievements of the business unit sales targets. Conducts presentation of the technical aspect of the products that are deemed important to the client.
To be part of the team, the candidate must have education in the areas of Electrical or Mechanical Engineering (for Machine) and Food Technology (for Food). He/She must have existing business contacts in the industry.
Interested applicants may send their resume at:
Versa Group Phils, Corp. HR Department,
Suite 408 King Center Bldg., #57 Sgt. Rivera St., Quezon City
Or email them at: versa-hr@versagroup.com.ph